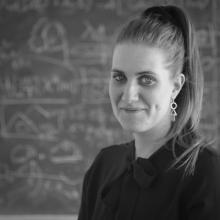 Carol graduated with a Bachelor's degree in Cognitive Psychology (2009) and Master's degree in Experimental Psychology and Cognitive Science (2012) from the University of Padova, Italy. In 2010, during her Master studies, she spent 11 months in Nijmegen, The Netherlands, attending courses at the Radboud University. Since 2013, she is a PhD student of the INSuLa lab. Her research focus is the investigation of how the brain categorizes different types of food, mainly visually presented, which factors drive food preferences and food choices, and whether there is a neural signature of such differences embedded in the brain. The techniques she uses include behavioral methods and electrical neuroimaging (EEG) techniques. 
Her favorite food is tea + carrot cake. 
Publications:
Foroni, F., Rumiati, R. I., Coricelli, C., & Ambron, E. (2016). A bait we cannot avoid: Food-induced motor distractibility. Brain and cognition. doi:10.1016/j.bandc.2015.12.003
Dalmaso, M., Galfano, G., Coricelli, C., & Castelli, L. (2014). Temporal dynamics underlying the modulation of social status on social attention. PloS one, 9(3), e93139.
Galfano, G., Dalmaso, M., Marzoli, D., Pavan, G., Coricelli, C., & Castelli, L. (2012). Eye gaze cannot be ignored (but neither can arrows). The Quarterly Journal of Experimental Psychology, 65(10), 1895-1910.