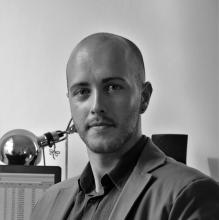 Tiziano received his Bachelor's degreee in Psychological Sciences and Techniques from the University of Trieste in 2013 with a thesis on the influence of facial expressions on implicit prejudice measures. He then went to obtain a Master's degree in Applied Cognitive Psychology from the University of Padova, graduating cum laude in 2015. During this period, Tiziano was awarded with an Erasmus+ Fellowship to complete his studies at the Behavioural Science Institute of Radboud University, Nijmegen (the Netherlands), where he worked towards the completion of an experimental thesis exploring how motivation can affect automatic evaluations driven by subliminal images.
Tiziano is currently studying how semantic knowledge is organized, processed and implemented in the brain, with a focus on the semantic representation of social categories. His research involves both the use of brain stimulation techniques such as transcranial magnetic stimulation (TMS) and neurophysiological measurements like electroencephalography (EEG). His topics of interest also include data analysis, attitudes, implicit measures, unconscious cognition, and motivation.
Publications
Suran, T., Arcara, G., Piretti, L., & Rumiati, R. (in preparation) Electrophysiological correlates of social group representations in affective priming.
Suran, T., Rumiati, R. I., & Piretti, L. (under revision). The contribution of the left inferior frontal gyrus in affective processing of social groups. Preprint available at https://doi.org/10.31234/osf.io/ejbsk
Korb, S., Osimo, S., Suran, T., Goldstein, A., & Rumiati, R.I. (2017) Face proprioception does not modulate access to visual awareness of emotional faces in a continuous flash suppression paradigm. Consciousness and Cognition, 51, 166–180. https://doi.org/10.1016/j.concog.2017.03.008